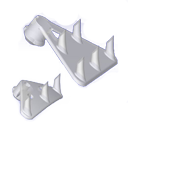 Endotine Forehead
The ENDOTINE Forehead is a resorbable soft tissue fixation system that has revolutionised brow lifting.
MicroAire's patented Multipoint technology ensures unrivalled fixation strength whilst the copolymer of poly-lactic and poly-glycolic acids means the device will totally resorb once periosteal re-adherence has occurred.
Performing a brow lift with the ENDOTINE Forehead couldn't be simpler and because the need for cumbersome fixation sutures is eliminated, the procedure is very fast. Placement of the ENDOTINE forehead device can be achieved in under 1 minute by an experienced ENDOTINE user and the entire brow lift procedure can be completed in around half an hour.
The ENDOTINE forehead device can be used in open and endoscopic brow lift procedures meaning you don't have to alter your method to take advantage of the many benefits offered by the Forehead device.
Ordering codes are below and for more information on how the Endotine Forehead is used just click here for operative technique or here for guidance on device selection.
Ordering Codes
| | |
| --- | --- |
| 22202 | ENDOTINE Forehead 3.0 (pair) |
| 22102 | ENDOTINE Forehead 3.5 (pair) |
| CFD-010-0167 | ENDOTINE Triple |
| 23202 | Ultratine Forehead 3.0 (pair) |
| 23102 | Ultratine Forehead 3.5 (pair) |
| CFD-010-4320 | ENDOTINE Forehead Instrument Kit |
| CFD-010-4313 | ENDOTINE Forehead Drill Bit |
| CFD-899-4000 | MicroAire Manual Surgical Drill |