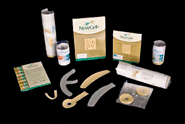 Silicone gel sheeting has been used since the 1980's to prevent the formation of hypertrophic scars and keloids and also to improve problem scars.
Although the efficacy of silicone gel sheeting has been questioned by some, it is know widely accepted as an effective treatment and also as a preventative device. A meta-study headed by Thomas Mustoe published in 2002 entitled International Clinical Recommendations on Scar Management concluded that:
"Despite initial skepticism, there is now good evidence of its efficacy and silicone gel sheeting has now become standard care for plastic surgeons. Results from at least eight randomized, controlled trials and a meta-study of 27 trials demonstrate that silicone gel sheeting is a safe and effective management option for hypertrophic scars and keloids. Totally occlusive dressings (e.g., polyethylene films) and semiocclusive dressings, such as polyurethane films, have not shown evidence of efficacy, and evidence of the effectiveness of other materials such as glycerin and other non–silicone-based dressing is mixed"
Aside from the cost, the main thing that sets NewGel+ apart from other silicone gel sheet products is the wide range of options that are available.
NewGel+ is available with three different backings; clear, beige and blue foam as well as in an ointment form for use when sheets may not be appropriate. Each of these options has its own benefits. For example, the clear sheets are less visible, beige sheets are more durable and blue foam sheets are very flexible which makes them ideal for use on the extremities or in areas where a full range of movement is required.
Along with the selection of backing types, NewGel+ sheets are also available in a wide variety of shapes to facilitate ease of use and to minimise wastage. NewGel+ is available is sheets, strips and shapes designed specifically for breast surgery, abdominoplasty/c-section, facial surgery and much more. A full list of the shapes and sizes of NewGel+ can be found by clicking here.
To learn more about NewGel+ scar management products you can visit www.newgel.co.uk, send an e-mail to mail@advantechsurgical.com or call 0845 130 5866.