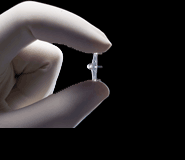 Endotine TransBleph
The ENDOTINE TransBleph has brought about a change in how both surgeons and patients look at rejuvenation of the eyes. Now it is possible for you to offer your patients the benefits of a brow lift and blepharoplasty through a single upper lid bleph incision and under a local anaesthetic.
Surgeons have long faced the problem of patients who come to see them complaining of tired or old looking eyes and asking them to remove excess eyelid tissue thinking this will solve their problem. In actual fact, part of the problem with the patient's eyes is brow ptosis which will not be corrected by simply removing the excess lid tissue. Often the patient opts out of surgery when they learn they really need a brow lift or they decide to proceed with the blepharoplasty anyway. Both of these situations are bad news for you, the latter especially as the patient is rarely happy with the result and this can lead to negative word of mouth.
This is where the ENDOTINE TransBleph comes in. The ENDOTINE TransBleph allows you to offer your patients real rejuvenation of the eyes by combining the benefits of a brow lift and a blepharoplasty without the need for a GA or the extra incisions and downtime associated with a conventional brow lift and at a fraction of the cost of a brow lift. Meaning you can provide your patients with the treatment they need with less downtime and minimal visible scarring at a price they can afford.
TransBlepharoplasty Brow Lift
A TransBleph brow lift can be performed in around 30 minutes by a surgeon experienced in the procedure. If you are new to the procedure, you should allow about 10-15 minutes per side over and above the time taken to perform your standard blepharoplasty.
Ordering Codes
| | |
| --- | --- |
| CFD-080-0177 | ENDOTINE TransBleph 3.0 |
| CFD-080-0167 | ENDOTINE TransBleph 3.5 |
| CFD-899-4000 | MicroAire Manual Surgical Drill |