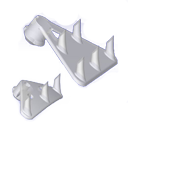 Device Selection
There are three devices to choose from; The ENDOTINE Forehead, The Ultratine Forehead and the ENDOTINE Triple.
The ENDOTINE Forehead is the original ENDOTINE device. It comprises an anchoring post, a triangular platform which when placed sits flush with the skull and 5 spikes or tines. This device will resorb in approximately 9-12 months and is available in two sizes; the 3.0 and 3.5. The size of the device relates to the length of the tines and as a general rule, the 3.5 should be used where the patient has very heavy brow ptosis or has had previous brow surgery. For all other cases the 3.0 should be the device of choice.
The Ultratine Forehead is exactly the same design as the ENDOTINE Forehead however the Ultratine is made from a different formulation of the same co-polymer which means it will resorb much faster. Resorbtion time for the Ultratine is approximately 60-90 days and is therefore ideal if you want the benefits of ENDOTINE fixation but are concerned about the device remaining in place for a long period. It is important to note however that the Ultratine device is quite brittle and care should be taken when placing it to ensure it is not damaged. Device selection is the same as for the ENDOTINE forehead.
The ENDOTINE Triple was designed to provide an option suitable for patients with very thin tissue where device palpability may be an issue. The Triple is a smaller triangle with only three tines and comes preloaded on an insertion tool and is packed with a sterile drill bit.
3mm Endotine Forehead
3.5mm Endotine Forhead
Endotine Triple
Ordering codes are below however if you would like further information on operative technique, please click here or for instrumentation requirements please click here.
Ordering Codes
| | |
| --- | --- |
| 22202 | ENDOTINE Forehead 3.0 (pair) |
| 22102 | ENDOTINE Forehead 3.5 (pair) |
| CFD-010-0167 | ENDOTINE Triple |
| 23202 | Ultratine Forehead 3.0 (pair) |
| 23102 | Ultratine Forehead 3.5 (pair) |
| CFD-010-4320 | ENDOTINE Forehead Instrument Kit |
| CFD-010-4313 | ENDOTINE Forehead Drill Bit |
| CFD-899-4000 | MicroAire Manual Surgical Drill |