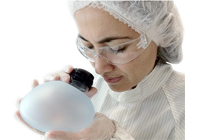 With more than 30 years of advanced breast implant manufacturing experience, building quality breast implants has always been a natural outcome for Establishment Labs founders and top executives. As a result, Motiva Implant Matrix® has established a level of product innovation that always leads to safety.
Motiva Implants present the first true innovation in breast implants in the past 30 years. Central to this innovation is Motiva's shell surface.
Motiva implant shells are created using 3D printed mandrels which produce a nano-surface of 8000 points of contact/cm2. This nano-surface disrupts fibroblast alignment and therefore limits capsule formation. Following from this, Motiva Implants have rates of capsular contracture less than 1% after 5 years*. Our innovative shells also have rupture rates less than 1% after 5 years*.
In addition to this, Motiva Implants have the following innovations:
TrueMonobloc Shell
BlueSeal visible barrier layer
ProgressiveGel Ultima for a more natural look and feel
Controlled Surfaces
3D Simulation
TwinPack
Qinside Safety Technology
TrueTissue Technology
Ergonomix
To learn more about Motiva please click here or to arrange a visit please call 0845 130 5866.