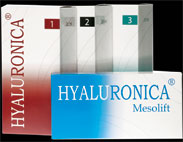 HYALURONICA is a revolutionary product range of dermal fillers based on Hyaluronic acid, that is naturally present in skin's dermis and is the main component of skin's structure. It is vital for the hydration of skin tissues, keeping skin moist and smooth, boosting skin's elasticity, enhancing collagen sinthesys, inhibiting wrinkle formation, nourishing
skin cell growth and promoting skin firmness.
The products are designed for a professional performing dermal filler procedures and aesthetic mesotherapy.
Each one of the products is highly effective in compensating skin's hyaluronic acid deficiency, ensuring skin's rejuvenation and reducing the appearance of facial wrinkles. Thanks to the promotion of these benefits to the skin; its radiance, density, smoothness and elasticity are efficiently restored.

With HYALURONICA® you can guarantee your patients an immediate visible effect, using a safe method that will provide a natural look and radiant skin.
For further information please click here.